Advantage Sales Team Authorized Reseller (ASTAR)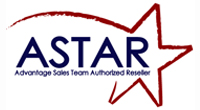 ARS is seeking IT specialists, consultants, accountants, and software providers who are looking to expand into new markets. This is a great opportunity for individuals who provide services to companies that deliver or provide services on route. ARS is currently supporting companies in a variety of industries, and takes pride in the relationships we have developed with industry leaders around the world.  This is your opportunity to take advantage of our reputation and increase your profits!
We offer several levels of route accounting software, as well as a wide variety of optional modules, hardware, supplies and support plans. As a reseller you will have the opportunity to sell all of these products to your customers.
We have partnered with companies in many industries including:
Bottle Water and Water Treatment
Packaged Ice Delivery
Propane Delivery (bulk and cylinder exchange)
Mobile Shredding
Dairy
Food Distribution
Recycling and Dumpster Services
Other Delivery Services
We offer several levels of route accounting software, as well as a wide variety of optional modules, hardware, supplies and support plans.
Q-Route 2000: A simple but powerful tool for QuickBooks users. Q-Route takes information from QuickBooks and transfers it to our powerful, easy to use handheld software. Invoices and work orders can be printed on-site and uploaded back to QuickBooks to eliminate manual data entry, transcription errors, mathematical errors, pricing errors and many other common mistakes. Visit www.qroute2000.com to learn more.
Route Manager Advanced (Corporate):  RMA Corporate has been designed to automate office operations and make field data collection easier. It accurately tracks customers, products sold, equipment, inventory and much more. RMA Corporate is most frequently used by companies with one to two locations that operate between three to 15 delivery vehicles. Click here for more information.
Route Manager Advanced (Enterprise) RMA Enterprise was designed to meet the needs of large corporations. It allows you to track your customers, products sold, equipment, and inventory. In addition, RMA Enterprise will allow you to have multiple locations, currencies, and languages. RMA Enterprise has the capability to meet the needs of your operation. Click here for more information.
Optional Modules: Optional modules are add-on tools that can be added to our software to enhance functionality. The link below will provide you with a list of the modules available; their features, and which program they are compatible with. Click here for more information.
Hardware and Supplies: Handheld devices are a valuable tool that can save your customers time and money by eliminating manual data entry and allowing them to automate their billing process. All of our route accounting software is compatible with handheld computers and all of the necessary supplies and accessories are available through ARS. For a complete list of compatible handhelds and printers go to www.PDA4USA.com.
For more information about Advantage Route Systems, visit www.AdvantageRS.com.
How to become an ASTAR member:
Do you want to be on a winning team? It's easy!!You can join the ASTAR team by clicking the "Join Now" button below.
Our reseller account manager will contact you with details about the plan, documentation, pricing, and conditions
Complete the required forms provide to you by the reseller account manager, sign and fax back.
Upon approval you can begin downloading product sheets, marketing material, training courses, and start selling!!!